Here is a photo of the miscreant I wrote about yesterday. It was taken during his arraignment.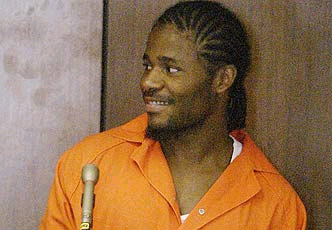 Charming, isn't he?
During his fifteen minute arraignment, he taunted the victims' families in a Newark courtroom yesterday, winking at them, licking his lips, mouthing threats and shouting a profane insult that sent the distraught relatives storming into the hall.

…

Twice, he flashed a middle finger at them. Then, after pleading not guilty, Cuebas, 23, turned and shouted, "F– your family.
Here is a list of crimes that this Waste of Oxygen is currently being charged with.
As if they were not enough, this Fine Fellow claims that he also committed other crimes such as "…shootings in New York City, robberies in Orange [NJ] and the shooting of a 34-year-old man in New Brunswick [NJ] on July 30, 2005." He's been right when he boasted of the crimes for which is he is being charged. Sadly, I suspect he's right about these crimes too.
Since it is extremely unlikely that he will ever be treated to a lethal injection, it looks like New Jersey's taxpayers will be providing him with room, board (along with exercise facilities, medical care, books, educational opportunities, and free lawyers) for a long time.
And the beat goes on.