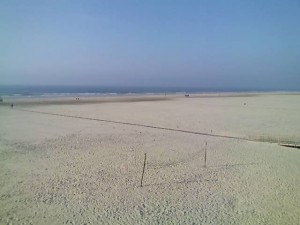 I just returned from spending three days in Wildwood Crest, NJ, a classic oceanfront town that is known for its sixties-vintage, often garish motels and hotels. I was there to attend an annual family get together, as an honorary family member. There was much eating, great company, many, many laughs, a bit of "swimming," a bit of picking and, yes, a few cocktails. The beaches are beautiful and, as you can see from the view from the balcony (click to enlarge), they are also humongous.
Wildwood Crest is somewhat fancier than its northern cousin, Wildwood (without the "Crest"), which is known for its boardwalk rides and amusements and which was the inspiration for the Bobby Rydell song featured in the second link in the first paragraph. Wildwood Crest does not permit the sale of liquor (no bars, no liquor stores), but a short drive or even a walk down the main drag to Wildwood is all it takes to lay in supplies and we laid in plenty.
My insides are tired. This retirement thing is exhausting.