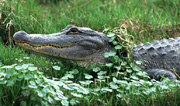 I read this story today over at Straight White Guy about a woman who was attacked while working in her garden by an alligator in excess of nine-feet long. The alligator dragged the 74 year-old woman the into the nearby lake. I have to tell you that the story sent a cold shiver down my spine.
The fact is that I am scared shitless of alligators. Sure, there are more dangerous animals on the planet, especially when they are hungry or angry. But there is something special about alligators that creeps me out, big time. They are ugly as snot, and they lurk around in rivers in the Southeast like large, heavily armored, spiked turds, just waiting to eat whatever they damned well please – and they will eat ANYTHING.
Sure, the environmentalists say that we should be able to live alongside alligators, and that if one follows all the safety tips, one probably will never be attacked (the operative word is "probably"). They will also remind us that, since the 1950's there have been only slightly more than 326 reported attacks, with only slightly more than a dozen being fatal. That's quite enough for me, thanks.
I'm sorry, but just the sight of an alligator scares the dogshit out of me. As much as I like Florida, you can bet your boots that I would never, ever buy a house near a river in the Sunshine State. Although it is often said that most alligator attacks occur in the water, try telling that to the lady in the above story linked by Eric, or to the lady who was riding in the back of a pickup truck with her feet hanging over the side, when one of these nasty beasts lunged up and grabbed her by the ankles. Oh, and if one of them decides to make you his land-lunch, running away probably won't work, as alligators have been reported to be able to run up to 35 miles per hour for short distances (about as fast as a race hours, as I recall).
I am sure that environmentalists and those folks who (God knows why) have a fondness for alligators would urge that gators play an important role in the ecosystem, although I am unaware of exactly what that might be. Again, I'm sorry, and I know that I am being politically and environmentally incorrect (Is there a difference?), but I'd be just as happy to see these terrifying monsters on an alphabetical list a few rungs about the dodo bird.
The good news is that we don't have these ghastly creatures in New Jersey. I'd rather deal with the mob, thank you.
Update: Reader, Jennifer Jenkins has advised me that one of the links, which appears in a few places throughout the post, is broken. She suggested that this page contains the type of information that was in the broken link. Thanks, Jennifer!