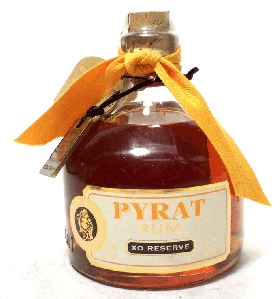 I had read about Pyrat Rum a while back at my buddy Yabu's site, and I've been on the lookout for it ever since. Last week, I was pleasantly surprised to find a bottle of Pyrat XO Reserve in a smallish liquor store not far from the House by the Parkway (South). It went immediately into the shopping cart.
Rather than crack it open as soon as I returned from the store, I decided to wait for the proper time to sample what promised to be a rare treat. Turns out that last night was the perfect night. Comcast cratered for many folks in the neighborhood, which, for me at the House by the Parkway (South), meant that I had no television, no internet access and no telephones.
Rather than get all worked up over the outage, I pulled the cork from the bottle and poured a generous helping into a snifter (I can't imagine drinking it any other way) and took it outside. I plugged in Mr. iPod and fired up a CAO Criollo Pato cigar. The outside temperature had dropped along with the humidity. The breeze was just right. Then there was the Pyrat – Wow. It's a taste sensation – a veritable cornucopia of flavors one doesn't expect with rum. Accompanying it with a good cigar and good music was just plain gottdamned civilized.
I'm loving this retirement thing.