As I mentioned in an earlier post, my Beloved Gibson was delivered to a relative's house the day we arrived in Florida, and I have been itching to see it since then.
Here is a photo of the box in which it was returned. Apparently, the UPS guy delivering it said, "Somebody's got a new toy. If he doesn't want it, I'll take it."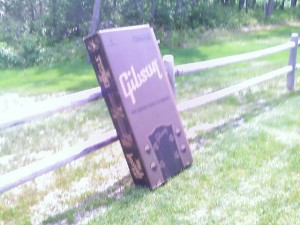 I opened the box and examined my case. Gibson cautions that sometimes cases can be scratched while in their hands. The case looked as good as ever. In fact, I was never happier to see it. Here are top and side views of the case. I like to think that the big, orange "T" on the case (bought after the first blogmeet at Eric's) might have gotten the guitar a little bit of special attention from the Gibson folks in Nashville.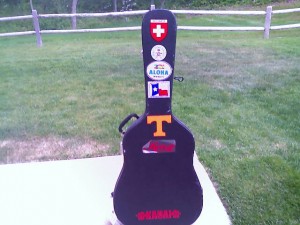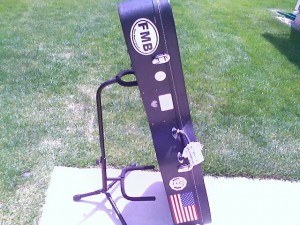 I then feasted my eyes on the guitar itself. In addition to doing the repairs on the cracks in the body (and, as it turns out, in one of the braces), cleaning and setting up the fretboard and bridge, they cleaned it all up. Beautiful! Here are two views of the guitar and a close up of the headstock (all taken with a cell phone camera). Beautiful.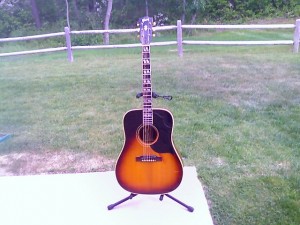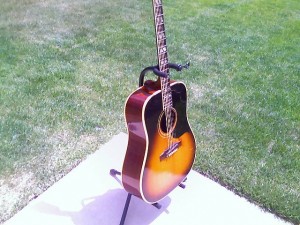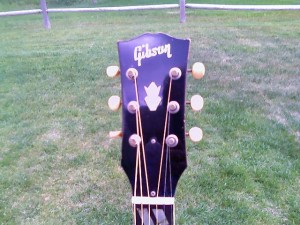 I then sat down and tuned it up (guitars are shipped with slack strings) and WOW! It plays like a dream and sounds as good as the day I bought it more than 45 years ago. No, it actually sounds better now, because the wood has aged all those years.
I take my hat off to the Gibson luthiers. They did a wonderful job. It was worth the money and worth the wait. Oh, and I also learned from the Gibson folks that the actual model name of the guitar is a "Southern Jumbo." Go figure. Back when I bought it, all I knew about the model name was that it was the "Model I Could Afford."
Excuse me; I've got a bit of playin' to do.