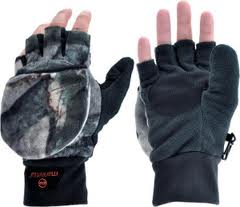 I've been regularly groundpounding, year-round, for about a decade now. The only weather-related things that will keep me inside are cold rain and icy sidewalks/roads. As such, I go out in weather down into the single digits. On the coldest days, I wear sweatpants and multiple layers (depending on the temperature) under a windbreaker.
Yo, Jimbo. What about your hands? At single-digit temperatures, WTF?
Good question. At the outset, it should be noted that cold hands are only a problem for the first twenty minutes or so. After that, blood flow takes care of everything. Until now, I have worn nothing on my hands more elaborate than white painter's gloves. They were warm enough for the first twenty minutes.
However; lately, painter's gloves weren't getting it done by the House by the Parkway (South), where we have frigid temperatures and some gorilla-stompin' wind. I tried regular gloves, but I found myself pulling my cold digits out of the fingers of the gloves in order to make a fist inside the gloves. This, of course, demonstrates that the best thing out there to keep your hands warm are mittens.
Hence, the endorsement.
I recently acquired a pair of Manzella convertible hunter's gloves/mittens as shown above. They are gloves that cover your hands but leave your fingers free to do stuff like load guns and shoot. The key is the "convertible" part. The gloves can be instantly converted to mittens by pulling the cover over the tips of your fingers. I love this feature, because I can do lots of things, such as fiddle with my iPod, without removing the gloves, and, after twenty minutes, I can fold back the part that turned the gloves into mittens, and magnets keep them that way.
So, if you are a cold weather groundpounder, a hunter, or anyone else who wishes to keep his/her hands warm in nice mittens, but who needs the option of using their fingers, I suggest you consider the Manzella Hunter Convertible gloves.
You're welcome.
P.S. The gloves picture above are the camouflage version. Mine are the blinding "blaze orange" version, which you can see by clicking on the color in the previous link. Between the blaze orange mittens and my retina-scalding chartreuse reflective windbreaker, I figure my groundpounds are visible from the farookin' space station.