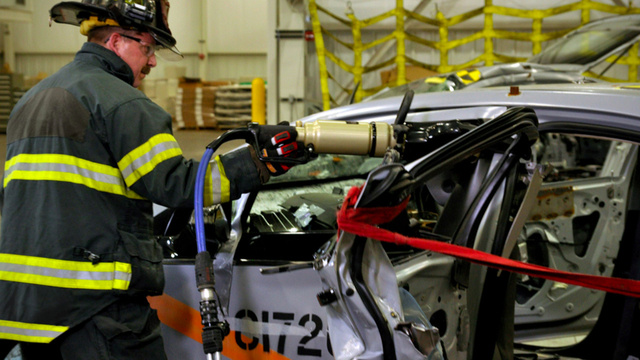 Last week, the Obama Administration sought to increase the Chevrolet Volt purchaser tax credit from $7,500 to $10,000.

All this for a car so dangerous to first responders that the Department of Energy allocated $4.4 million dollars for programs to prevent fire fighters from electrocuting themselves while trying to rescue crash victims.

…

The General Motors Service Technical College provides technical materials to first responders around the country. Just this week, their publication on the Volt was cited by a Baltimore County, Maryland Fire Service Special Interest Bulletin. After a bizarre paragraph extolling the virtues of the car itself, the bulletin gets down to the business of informing fire fighters of how to not kill themselves trying to rescue a crash victim.

It states:

"There is a yellow First Responder cable "cut" tag wrapped around the low volt positive battery cable behind the fuse panel door, located on the left side of the rear compartment (see diagram on next page). This cable should be cut first to disable the vehicle safely before beginning any extrication. The cable should be cut on both sides of the label to ensure the cut cable ends do not inadvertently touch and re-energize the vehicle."

General Motors also warns that "cutting these cables can result in serious injury or death."

Hence the need for spending $4.4 million in taxpayer money to train firefighters across the country to protect themselves from a car that the government paid people $7,500 per unit to purchase. … Read it all.
Can you read a story like this and still think that the Obama Regime is not taking this country down the toilet?
via Doug Ross