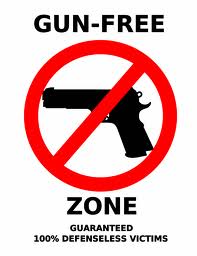 Once again, it seems that current events have resulted in my lack of attention to the blog. Information and shouting overload. Not surprisingly, it began with the horrible murders in Sandy Hook School, which were mentally and emotionally paralyzing. But those events only marked the beginning of the real crazy stuff.
A few hours after learning about the murders in Connecticut, I found myself wondering how long it would take for the anti-gun crowd to form up and blame guns and not the bad guys who do the killing. It didn't take long – only an hour or two after the shootings, the screeching commenced for the government to do something!
The "something" almost always takes the form of demanding stricter gun control laws (although, Andrew Cuomo doesn't rule out "confiscation"). It matters not that bad guys don't obey gun control laws and that additional laws will do nothing to prevent another villain or nutcase from wreaking havoc with a firearm. By contrast, stricter gun control laws will serve to punish the millions of law-abiding gun owners who have done nothing wrong and will also result in more "gun-free" zones, which are the perfect killing fields for the armed homicidal maniac.
The latest noise centers on "assault weapons" (often mischaracterized as being "automatic" weapons), which are actually semi-automatic rifles (one bullet per trigger pull) that are dressed to look like scary military weapons. There are shouts of "Who needs an assault rifle?" Truth is, I don't think I need one, but I get very antsy when the government decides what kind of firearms Americans need. After all, who really needs a motorcycle? A fast car? See: Daniel Greenfield, "It's About Time We had a Serious Discussion About Assault Vehicles."
Whatever causes a person to enter a school and kill children and teachers is a societal problem, deserving of more rational thought than that evidenced by the deep-thinking Nancy Pelosi when she was blabbing about banning "assault magazines."
I don't presume to have the answers to the bedeviling questions surrounding the tragedy that unfolded in Connecticut, but can we all agree that things might have turned out differently if there had been someone armed in that school in a position to put that homicidal animal down? I'm quite sure that the parents of the murdered children wish it would have been so.