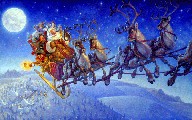 Christmas has passed. The rubble has been cleaned up, and the leftovers have been eaten. There is much I will miss about Christmas – the decorations, the family gathering, great food, watching small children anticipate Santa's arrival, and the general good spirit exhibited by most folks.
There are, however, a few things I will not miss:
1. Commercial jingles sung to the tune of Christmas songs. I sometimes think that the "creative" people at ad agencies often aren't very. Jingles sung to this song, more than any others, make me want to slam my head against a hard surface.
2. Local Car Dealership Commercials where the Owner of the Dealership wears a Santa hat and SHOUTS about the great Christmas deals he has to offer, even if you have no money and lousy credit. The end of the commercials often feature all the employees of the dealership standing in a mob (wearing Santa hats) and saying "Happy Holidays" in sort-of unison. Yeah, that'll make me want to drop everything, run out and buy a new car.
3. Any parody of 'Twas the Night Before Christmas, except for this one. (The Wiseass Jooette reminded me of this great oldie.)
4. The Catalog Tsunami. I normally receive way more catalogs than I want, but between Thanksgiving and Christmas, I probably receive twenty pounds of them. Dear Harry and David – Nice stuff, but no thanks – a thousand times, no thanks.
5. Photographs of dogs with fake antlers stuck on their heads. Not funny; not particularly cute, and I'll bet the dogs hate it too.
Hey, in 362 days, we get to do it all over again.