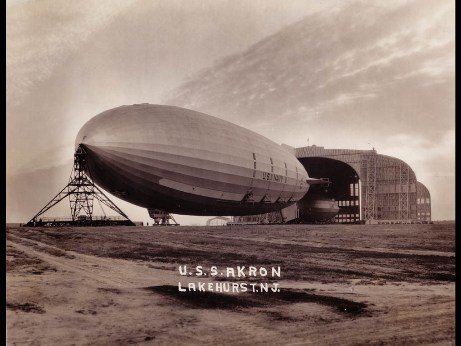 Airships have not fared well in New Jersey. Of course, when one thinks of airship disasters, the fiery crash of the Hindenburg in Lakehurst, New Jersey in 1937 immediately comes to mind. We all have seen the frightening film and listened to the iconic "Oh, the humanity" live newscast.
By contrast, we never hear of the crash of the Airship U.S.S. Akron, which went down off the coast of New Jersey's Barnegat Light, in 1933 killing 73 of the 76-man navy crew, making it the worst airship disaster in history.
Finally, after eighty years, the event and the crew have been officially remembered.
A ceremony commemorating the 80th anniversary of the deadliest airship crash was held in Manchester Township, Ocean County, in front of the Grand Army Memorial Park's Civil War monument, which has a piece of a USS Akron girder affixed to it. The names of the 73 dead from the USS Akron — plus two more men who were killed on a Navy blimp that tried to rescue the Akron survivors — were read aloud before "Taps" was played.
Check out the article, video and slideshow here.
More here, including photos of the incident in which three line handlers were pulled into the air when the Akron accidently climbed while attempting to land near San Diego in 1932. Two of the men fell to their death.