Yes indeedy. Today is T1G's birthday, and I have no doubt that he will celebrate with an adult beverage or two. I have had the pleasure being in his company on two occasions, and he is a bear of a guy, but of the "Gentle Ben" variety. I can't imagine anyone not liking him.
I was fortunate enough to swipe a picture of T1G from Eric's house when I was there last October. Eric had snapped this picture after T1G drove his Harley from somewhere around Chicago all the way to Tennessee some time earlier that year.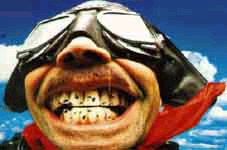 Handsome devil, isn't he?
Happy Boitday, Joe!