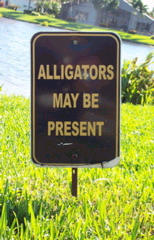 Yes, folks. It is indeed that time of the year again – a time when the Usual Suspects descend on the Alligator Sunshine State for a week of rest, spiritual reflection and rejuvenation copious alcohol consumption, lots of poolside sitting, swimming standing around in the water and bullshitting, and having a shitload of laughs.
Ten of us Garden State Vulgarians will be winging our way to Fort Myers Beach tomorrow morning. Once we land and secure our land transport vehicles, we will make an initial stop here for a bit of lunch and a tune-up cocktail or two. From there, it's another whirlwind stop at the supermarket to purchase necessary supplies for the week (including beer, lots of beer). Just one more stop before we hit our Headquarters, and that is the little liquor store, where the guy jumps for joy every year when we show up to launch a major assault on his inventory.
Once the land transports are unloaded and our stuff is tossed into our respective units, the six-day party begins.
The marathon party notwithstanding, on most mornings I still take a short break from the revelry to do the morning walk. Last year, several of the Usual Suspects reported having seen a "small" alligator in a little bullshit pond across the street from where we stay, within striking distance of where I was walking in the mornings. The locals confirmed the sightings and noted that, at some point, Mr. Alligator would likely have to be removed. I frankly don't give a shit if they say the disgusting beast has been removed (there can always be more!), this coming week I plan on putting plenty of distance between my ass and that little bullshit pond.
While I'm away doing my part to make the local liquor store guy happy, those of you who have keys to the place are welcome to drop by and have at it. In any event, I plan to return to the keyboard some time next weekend.
Play nice, everyone.