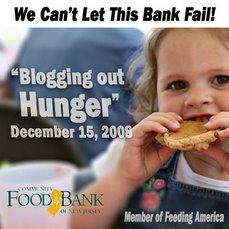 I am pleased to be one of the many Jersey Bloggers, of all stripes, who have united to seek your help for the New Jersey Food Bank. As this video makes clear, the number of people (some of whom may be your friends or family) who find themselves in need of the services provided by their local food banks has been dramatically increasing, while donations have been dramatically decreasing
You can pitch in by making a monetary donation, but if you find yourself unable to do that, please consider making a donation of food to your local food banks. I have to believe you can open your cabinets and fill up at least one grocery bag full of food that you, thankfully, can spare. We at the House by the Parkway did just that a week or so ago in connection with a food drive run at work, and I was happy to see the photographs of a full-sized van loaded with food heading off to the local food bank.
New Jersey Premier Blogger, Tigerhawk, has made a very generous offer. He has indicated that he will match your monetary contribution, dollar for dollar. The details are here.
It's extremely rare that so many bloggers can agree about anything, but it is gratifying to see that we have come together for this cause.
Please do what you can. If you can't donate money, it's OK, but how about donating a bag of groceries? Take a look in your kitchen cabinets. I'm sure you can fill up a bag of things you don't need to give to people who need them very much.
Update: I had written this post several hours ago and immediately headed off for Mr. Recliner, where I pretended to watch television. I only now realized that I had accidentally published it as a separate page rather than a regular entry, which is interesting seeing as how I don't know how I managed to do that.. I still don't get the separate page thing.