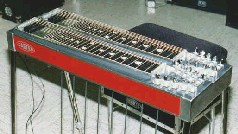 As some of you know, I have spent a good deal of my adult life playing drums and singing in bands. I have spent all my life surrounded with music, something for which I can thank my father.
He was an amateur guitar player and a terrific singer, who loved country music and filled the house with it, either by playing it and singing it himself, or playing records by singers such as Hank Williams, Hank Snow, Jim Reeves, and Eddy Arnold. This was admittedly a bit unusual, given that the New York – New Jersey metropolitan area is one of the few places in the U.S. where country music is not big.
He taught me the rudiments of guitar playing, which provided a foundation for me to build upon over the years, even though I veered away from guitar playing for anything other than fun and became a drummer in various bands that played music that was popular in the New York – New Jersey metropolitan area. None of that dampened my fondness for country music. In fact, on those rare occasions when a country-type tune broke through into the pop charts, I would always be the one in the band to get the nod, as the other guys really never "got" it.
All the bands I played with included guitars and bass (either played on an electric bass or keyboard), and the bands I played with longest also included a keyboard and sax. Once I even got to do a short stint with a band that included three "horns," a sax, trumpet, and a trombone. I loved it all.
However, the one thing I regret is that I never got a chance to play in a band with a pedal steel guitar, a mainstay of country music. There just wasn't any call for it around here. As such, I never even heard one played live, much less get to watch someone play pedal steel or to even learn a blessed thing about the instrument. All I know is that there really isn't anything quite like listening to a good pedal steel player lay in a "crying guitar" background in a country tune.
I decided to do a bit of reading** about pedal steel, and it turns out that pedal steel players are, compared to, say, guitar players or drummers, a small group. That surprised me a bit, given the importance of the instrument to country music, however, the limited number of people who play pedal steel may be traceable to the apparent difficulty of learning to play.
Physically, playing [pedal steel] requires the use of both hands, both feet and both knees. In addition there is no tactile sensation in your hands to tell you where you are on the neck so it uses visual markers. This is one instrument where you have to watch your hands, and you also have to listen very carefully to what you are doing to make sure your intonation is correct. In country music circles where it is commercially used, this is considered to be the instrument that separates the men from the boys.[link]
In addition to requiring two hands, two feet, two knees, a watchful eye and a great ear, playing pedal steel require that one be familiar with various ways of tuning the instrument. They are even formidable looking instruments as can be seen here.
Lest one conclude hat pedal steel is limited to country music, the instrument in the hands (feet and knees) of a good player, sounds sweet no matter where it appears, such as, for example, in this sound sample by Hal Rugg.
Based on what I have read, it is quite clear that I will never play pedal steel, but I still sure as hell would like a chance to play a bit with a band that plays the tunes my dad taught me and which includes a pedal steel player. I'd probably like to play guitar in that band so that I could watch the pedal steel player's hands feet and knees in action.
Maybe some day.
**A good bit of pedal steel information can be found here.