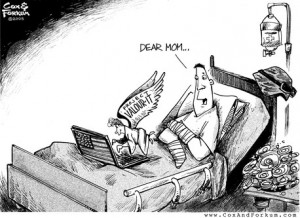 Soldiers' Angels is a recognized 501(c)(3) nonprofit organization, which provides numerous services to our troops. (You can read about Soldiers' Angels here). The organization is currently running its annual Project Valour-IT fundraiser. Project Valour-IT helps provide voice-controlled/adaptive laptop computers and other technology to support Soldiers, Sailors, Airmen and Marines recovering from hand wounds and other severe injuries. The technology supplied includes voice-controlled laptop computers, whole body Wii game systems (donated to hospitals for use in physical therapy), and hand held GPS devices to help build self-confidence and to compensate for short-term memory impairment.
Each year the military blogging community forms teams, each representing a branch of the military, as a friendly fundraising competition. I am a member of Team Army. You can GO HERE to learn about Project Valour-IT and to donate to Team Army. Of course, if you wish make your donation on behalf of another team (Navy, Marines, Air Force), or you wish to donate without specifying a team, you can click on "Campaigns" at the top of the linked page to do so. It's easy. It is important to note that all funds raised go to a single account and assist wounded warriors of any branch.
Soldiers' Angels is a wonderful organization and Project Valour-IT is an excellent program. I hope you can make a donation, no matter how large or small.
Thanks.

Note: The Project Valour-IT Cartoon pictured above is by my buddy John Cox.