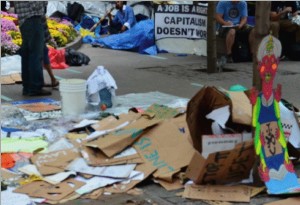 The locals are tiring of them. The New York Times reports:
… In interviews, business owners said they were especially annoyed that the organizers of the grass-roots movement neglected to include portable toilets in their plan to bring down Wall Street.

…

Several businesses said they had no choice but to respond to the influx of protesters by closing bathrooms.
Mike Keane, who owns O'Hara's Restaurant and Pub, said that the theft of soap and toilet paper had soared and that one protester had used the bathroom but had failed to properly use the toilet. Both Ms. Tzortzatos, owner of the Panini and Company Cafe, and Mr. Keane said the protesters rarely bought anything, yet hurled curses when they were told that only paying customers could use their bathrooms.

…
It's like a cockroach infestation.
UPDATE: The whole thing just keeps getting stinkier.