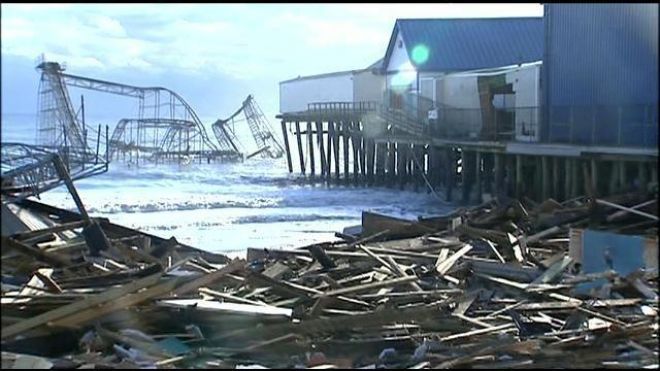 As for me and mine, we are all safe and, as of very recently, we have power, although it was pretty hairy there for a while. I had left on Thursday to attend a blogmeet in Tennessee (see previous post), which would run from Friday through Sunday morning. It was great seeing so many bloggers and former bloggers, all of whom have become good friends over the years.
During the blogmeet, I had been keeping an eye on the weather forecast for New Jersey, and when Sunday rolled around, it was clear that any thought of driving from Tennessee to New Jersey during a hurricane was just plain nuts. Elisson and his bride graciously offered me and Erica (who, along with her camera, was riding with me) an invitation to ride out the storm at their home two hundred miles south, in Georgia. Their warmth, friendship and hospitality (and that of their lovely and charming daughter) were beyond excellent. I shall never forget how wonderful they were to us.
So, while I was safely tucked away in Georgia eating well and doing cocktails, Mrs. Parkway was home at the Jersey shore while the hurricane was pounding the Jersey Shore and knocking out the power. Daughter had driven to Pennsylvania to attend a business meeting and ended up with a canceled meeting and being stranded in a darkened hotel (Hotel staff: "Don't worry; we have glow sticks.")
When daughter learned that a large oak tree fell on a portion of her roof, two fences, the generator and her husband, she scrambled to make the trip from central Pennsylvania back to New Jersey, encountering road block after road block. What should normally have taken four hours, took eight hours. The emergency room docs have confirmed that son-in-law is OK, albeit a bit banged up and sore. Communication between Georgia and either Mrs. Parkway or daughter during all this was initially spotty and eventually all but non-existent. It made for some serious pacing and nail biting.
On Wednesday, when it appeared that the worst was over and that gasoline outside of New Jersey would not likely be a problem, we struck out for the now-battered Garden State, and 940 miles later I was home by midnight. I had a couple ample slugs of bourbon and spent a few hours catching up on all that I had missed.
Frankly, it's all been a bit much to get my arms around, particularly when it comes to the breadth of the destruction in New Jersey. Most of the media attention has been given to the Jersey Shore area, where the storm made its landfall, but people all over the state are under water and/or without power, dealing with closed stores and critical gas shortages. The worst cases are, of course, people who have completely lost their homes to the storm.
New Jersey is a small, but densely populated state with lots of communities. As such, it is not uncommon, even in this small state, for us to never have visited or even know much about many of its communities. There is one huge exception to the rule, and that is Seaside Heights. I don't know a soul who is unfamiliar with Seaside Heights, and most have many, many fond memories of the iconic shore town.
Working class families (such as my parents and extended family) would save all year for a week or two "down the shore," which inevitably included either a rented bungalow in or near Seaside Heights and endless hours on the boardwalk enjoying the games, the rides and the food (I'm thinking sausage, pepper and onion sandwiches). Maybe it's the atmosphere and salt air that makes the food on the boardwalk taste special. I never figured it out.
Anyway, it's gone. Taken away by Hurricane Sandy.
To see numerous heart-breaking images and videos, Google "Seaside Heights Hurricane Sandy".
One place in Seaside Heights that seems to have escaped any damage is the "Jersey Shore House." It's ironic, given the damage that that Snooki and that collection of reprobates did to the image of the real Jersey Shore.