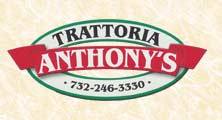 Over the weekend, I had to good fortune to have dinner at Anthony's Trattoria in North Brunswick, New Jersey. My daughter and son-in-law had eaten there before and suggested that it would be a good place for us to enjoy a casual BYO dinner. The restaurant, which is located in a strip mall, is easily spotted because of the life-sized statue of a happy, rotund chef holding a sign bidding people welcome. As it happened, the owner, himself, met us at the door with a warm welcome and escorted us past the pizza making section to the dining room in the rear of the restaurant.
After introducing himself (his name is "Al") and opening our bottle of wine, he told us that he has been the owner since December. He offered that food has always been his passion and that he decided to "go for it," in December. He smiled when he said that he hadn't taken a rest since then. His face lit up when describing some of the special dishes the restaurant serves that one wouldn't normally expect to find in a place that also has what appears to be an active pizza business. He went on to enthusiastically described his plans for future specials.
I didn't ask whether any particular event (e.g. an unintended, unforeseen "career change") caused him to buy the restaurant, as it really doesn't matter. All I could see was an American guy (who turns out to be from the town in which the House by the Parkway is located) taking all the risks, financial and otherwise, to make a go of it with a small business, working murderous hours, dealing with the inevitable daily crises, and loving every minute of it. I also saw four or five people who were gainfully employed by virtue of him having taken those risks.
I couldn't help but think that that's the way America is supposed to work. If Al provides good food and good service, his business will succeed. If not, his business will fail. Capitalism in its purest form.
The good news is that his business should surely thrive. He is a gracious host, his wait staff is knowledgeable, friendly and efficient, and the food and atmosphere were superb and everything is very reasonably priced. If you're ever in the North Brunswick area (not far from Rutgers), pick up a bottle (or two or three) of wine and head over to Anthony's Trattoria and be sure to say hello and shake hands with Al, an American who is living his dream, and who will happily share it with you.
You won't regret it.