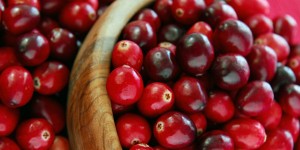 I love New Jersey, even with all its warts. It never ceases to surprise me.
Today, I went to the Cranberry Festival in Chatsworth, NJ (Chatsworth? Yes, Virginia, there is such a place) The festival celebrates the annual cranberry harvest, New Jersey being the third largest cranberry-growing state in the Union. It is a huge hodgepodge of vendors, with an emphasis on everything cranberry. The event attracts about a gazillion billion people, so the best advice is to get there early so as to avoid parking a couple miles away from all the action,
We bought a bunch of local stuff, which a non-Garden Stater traveling anywhere near Newark Airport would never think you would find in Jersey.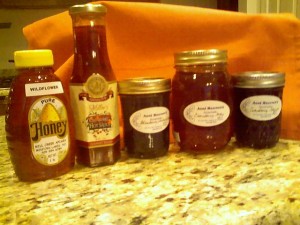 Above, from left to right:
Wildflower Honey from the Mill Creek Apiary, Medford Lakes, NJ.

Cranberry Hot Sauce from Indian Mills, New Jersey. It turns out that cranberries and HOT work well together.

Aunt Maureen's Homemade Blueberry-Walnut jam (Chatsworth, NJ)

Aunt Maureen's Homemade Cranberry Jelly (Chatsworth, NJ)

Aunt Maureen's Homemade Cranberry Sauce (Chatsworth, NJ)
I suggest you give the Cranberry Festival a visit. It's nothing like Newark.