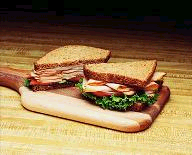 Yes, at Jimbo's Deli, we pride ourselves on maintaining an innovative menu, and we believe that every great sandwich deserves a name. Our prior offerings are here and here. Behold our latest additions:
ENJOY!
The Cap and Trade Wrap
Limburger cheese, drizzled with a fetid brown sauce and wrapped in baloney. As a special feature, we don't tell you the price until you've eaten it!
The Hope and Change
This is a popular menu item with our younger customers. For $15.00, you place your order for a sandwich and hope you get it. Don't expect any change. It's fun!
The Stimulus Sandwich
This belly-buster contains nothing but a full pound of hot, steaming pork. Most people skip the bread with this deli delight.
The Health Care Special
For a modest price of $25.00 we'll serve you what we think you should eat. The food itself is free! Note: People over 65 with chronic health conditions may not be served anything.
The Climate Change Coprophagia Supreme
This is hugely popular with our customers who are avid followers of the Gospel of Al Gore. This truly unique offering consists of a man-sized portion of prime, fresh bullshit piled between two slices of bread made from wheat that is organically grown in a hand-tilled, carbon emission-free field. Note: We hope you understand that we can only serve this sandwich "to go."