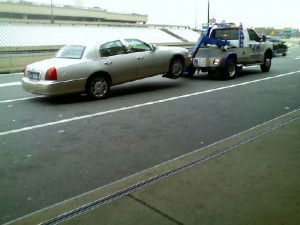 Here is a photo that has been sitting in my cell phone since my recent trip to the Left Coast. I took it at Newark Airport, where there are a gazillion signs that say things like:
DO NOT LEAVE YOUR VEHICLE UNATTENDED. UNATTENDED VEHICLES WILL TOWED AT OWNER'S EXPENSE.
As if the gazillion signs weren't enough warning, every few minutes the public address system makes an announcement making clear the consequences of leaving your vehicle unattended.
Obviously the knucklehead driving this car must have thought that the clearly-stated rules didn't apply to him. I got a particular kick out of watching the driver try to talk the cops out of towing the car away after it had already been placed on the tow truck's hook.
Here's the best part. The car was sporting New York license plates.
The Dooshbag driver must have been from Brooklyn.