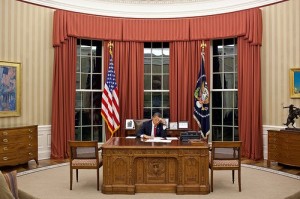 PRS Operatives learned of a recent discussion between the Department of Energy Secretary, Steven Chu and President Obama and, using proprietary technology, were able to record it.
Chu: Good afternoon, Mr. President.
Obama: (Not looking up from the Sports Section of the "Washington Post"). What is it Steve? I hope it's important, because, as you can see, I'm very busy.
Chu: Yes, Mr. President; I'll try to be brief.
Obama: (Still not looking up from the sports section) OK, get on with it.
Chu: Yes sir. I wanted to tell you about a request for a loan guarantee I just received for another green energy project.
Obama: (Turning pages)
Chu: Sir?
Obama: (Turning pages) I'm listening. Get to it.
Chu: Yes sir. The request comes from a gentleman named Elmer Krakus. He makes buggy whips in his garage. He has been doing so for about six months. Currently he manufactures one whip per day. Each whip sells for fifty dollars and so far he's sold four whips. He feels certain that buggy whips will be big in the coming years, as the country moves away from fossil fuels, and he, therefore, wants to expand his facility. More specifically, he wants to build a 50,000 square feet state-of-the-art buggy whip factory, complete with energy efficient equipment. The project is expected to cost four-hundred million dollars. He went to his bank for a four-hundred million dollar loan, and the banker almost fell off the chair laughing.
Obama: (Still turning pages) And he wants me to approve a loan guarantee of four hundred million dollars?
Chu: Yes, sir. It is, after all, a green energy project, and he is very environmentally conscious. He recycles, keeps his thermostat low in the winter and uses only compact fluorescent light bulbs.
Obama: (Still reading newspaper) Four-hundred million for a buggy whip factory? Are you out of your mind? This is the urgent matter you interrupted my afternoon for?
Chu: There's one more thing, sir.
Obama: (Still turning pages) Yes?
Chu: Mr. Krakus just contributed fifty-thousand dollars to your campaign and he bundled another fifty thousand from friends.
Obama: (Looking up from the newspaper). Dammit, Steve. Why didn't you say that at the beginning? Of course we'll guarantee the loan.
Chu: Thank you, sir. I'll let him know.
Obama: (Returns to reading the sports section)