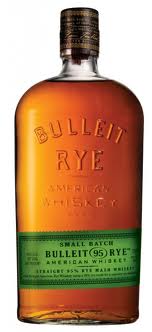 Great news on the Booze Front. Bulleit releases Bulleit Rye Whiskey.
As you know, I have been a huge fan of Bulleit Bourbon for some time now. What distinguishes Bulleit Bourbon from the rest is that it contains a more rye grain than any other bourbon. As you also may know, I recently tried some straight rye whiskey and liked it a lot.
So while walking through the aisles of the Mondo Liquor Store (during a trip "up north"), I was happy as a clam to see that Bulleit now offers Bulleit Rye Whiskey. I immediately scarfed up a bottle, anxious to give it a test run.
I am happy to say that, knowing how good Bulleit Bourbon is, the rye whiskey exceeded my high expectations. The stuff is really good. Smooth and downright delicious. I drank it neat, but, like the bourbon, it should hold up well under ice.
If you are interested in a more refined review of Bulleit Rye Whiskey, check out these two excellent reviews.
There is one more thing that makes Bulleit Bourbon and Bulleit Rye Whiskey special, and that is that Tom Bulleit, who began producing Bulleit bourbon in 1987 based upon an old family recipe, is a Vietnam Veteran and a member of the American Legion. He joined the Navy and became a corpsman serving in 1968 with the Marine Corps, First Division, in the area north of Da Nang.
Hell, if you ask me, that's reason enough to buy his booze.
It really is great stuff. Try it: you'll like it.