Yesterday Mrs. Parkway, daughter, son-in-law and I crossed the Hudson River to spend some time in the Big Apple and to use the show tickets that were gifted to us by daughter and son-in-law. Seeing as how I hate to drive into New York and Mrs. Parkway would sooner face a firing squad than drive into New York, Son-in-Law did the honors.
Rather than send you into Snoozeville with a meandering narrative, here are the high points:
Dinner at Becco. The restaurant was established by "Lidia" of television and cook book fame. Reservations a must. Very good food. Bring lots of money, unless you're having the spaghetti special and a Coke.
After Dinner Drinks at Firebird. Whoa! It's a serious Russian Restaurant, but we weren't there for the food. I insisted that we go there (based on the recommendation of a colleague), because they serve more than one hundred kinds of vodka. … mercy
The signature drink is the honey vodka, a concoction made on the premises using a secret recipe of honey and multiple spices. It is served in a frozen, tiny flute, and it is most excellent. As good as the honey vodka is, I would not recommend planning to get shitfaced drinking it, because it (and all the other vodkas on the menu) go for twelve dollars a rattle. Yes, that's twelve bucks for something like an ounce and a half of booze. Oh, and should you want that vodka turned into a martini (i.e. a dash of vermouth, shaken or stirred), you can add another fiver, making it a seventeen dollar drink.
The Show. We saw Mary Poppins, a Mrs. Parkway fave. Here's the goofy thing. Having never seen the movie, I figure I was the only person in the audience who had no idea what the heck the story was about. Worked out pretty well for me, I'd say. The singing and dancing were spectacular, as was Mary's "flying" all over the stage. It was a fun show, and I recommend it to anyone coming into New York with children.
The Parking. I figure that Johnny Sack must have the parking gig sewn up in New York, because the ransom for four or five hours of parking on a Sunday night was a mere $29.00.
Hey, it's the Theater District, yo.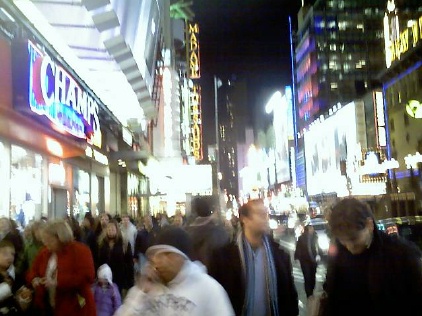 Here's how the "Great White Way" looks when you hold your cell phone camera over your head and shoot a picture.