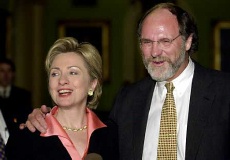 Jon Corzine, the zillionaire who bought a seat in the U.S. Senate and became bored with it, and then bought the New Jersey Governor's job. Now that he's spent a bunch of everyone's money, he has become bored with the Governor's job. Obviously he has his sights set on a gig with the hoped-for Clinton-2 Administration.
It wasn't enough that he traveled to Nevada to campaign for Mrs. Clinton, now he has praised her socialist economic stimulus plan.
Clinton has called for a 90-day moratorium on foreclosures, a five-year freeze on interest rates and a $30 billion fund to help states deal with the consequences of the subprime mortgage crisis. She has also proposed $25 billion in federal energy assistance to help low-income households deal with the record cost of home heating oil.
Of her election year "Bread and Circuses" plan, Corzine said, "It's not just rhetorical, it's practical."
Jackass.
If, heaven forbid, this woman becomes president, I hope she appoints Jon Corzine to be the Ambassador of Bullshitonia – anything to get his grubby hands out of my pockets.