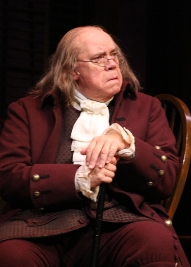 Being veddy, veddy civilized peeps, we spent last night at the thee-ah-tah, where we saw a performance of 1776 (there are nice photos from the production). The cast was outstanding, but I particularly enjoyed Conrad John Schuck's portrayal of Benjamin Franklin. He is probably best known for his appeare in the movie M*A*S*H as Capt. Walter 'Painless' Waldowski, the "best equipped dentist in the army," and Sgt. Charles Enright in the TV series McMillan and Wife.
Much of the theme (the debate over declaring independence from England) was quite timely.
If it comes to a thee-ah-tah near you, I recommend you see it.