I was looking through the newly re-designed Department of Justice website, which is essentially flagless and which boasts a fetching black motif. (The website used to look like this.)**
Anyway, I decided to check out some of the fugitives most wanted by various federal agencies. Yeah, I know that it isn't a very meaningful way to spend time, but I don't have any zits that need squeezing, so what the hell.
I came across this guy.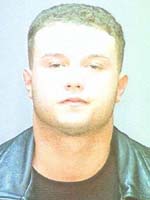 WTF?
My first thought was that the guy is a farookin' mime!
My second thought was that the DOJ is whimsically depicting certain bad guys in white face.
Then again, maybe the light was too bright when the photo was taken.
All this heavy duty change has me spooked. (Can we still say "spooked?")
** More on the re-designed DOJ Website here.