When I went to Helen, Georgia in 2004, I bought a cheap, disposable camera. I'm pretty sure I dropped it more than a couple times, and I took most, if not all, of the pictures after having had a few refreshments. As a result of that (and my not being much of a photographer on the best of days), the pictures (prints) came out pretty crappy. I looked at them once, decided they were just about worthless, and stuffed them back in the drug store envelope, after which time they found their way to the bottom of a basket of things I don't quite know what to do with. I suspect you may have such as basket at your place.
Now that Rob is gone, the "worthless" pictures are, to me, priceless. Here is the first of a few I'll be posting over the next few days.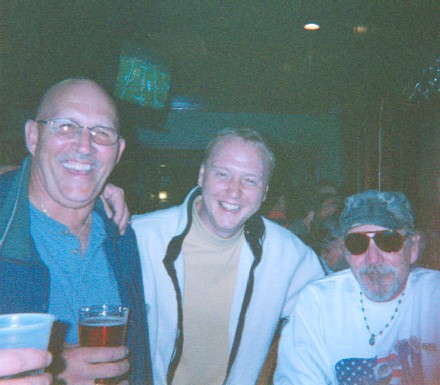 That is my friend and bodyguard Ken on the left. The guy in the center is, of course, Eric (The Ambassador of the Blogosphere), and Rob is on the right wearing shades. The name of the bar at which this picture was taken was The Troll. I booshit you not. That was the name.