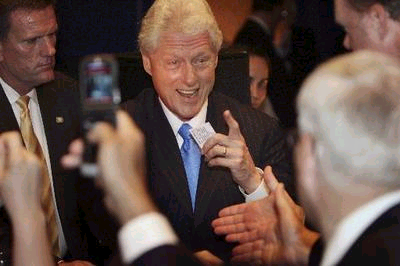 Bill Clinton, former President and Uebersweetheart of the Democrat party, blew into Jersey this past weekend to be the featured speaker at the
Governor's Gala Fundraiser
thrown by Democratic State Committee.
He must have given a helluva speech, because it raised $2 million for the Democratic State Committee, which, according to the Jersey Journal, increased the Democrat party's "already hefty money margin over the Republicans heading into the fall legislative elections".
I wonder whether that "hefty money margin" resulted from donations from poor and working people, because, as we know, the Democrat Party is the party of the poor and working people. Surely, the money didn't come from Corporate Fat Cats, and well-moneyed special interest groups, because everyone knows they're Republicans.
Speaking of Republicans, when George Bush came to Jersey a week earlier to raise money, the visit produced a mere $675 thousand. Damn those chincy Corporate Fat Cats and well-moneyed special interest groups!
I assume my invitations to both events were somehow lost in the mail.