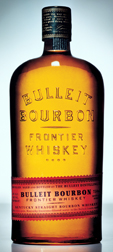 My daughter and my son-in-law, knowing what tickles my fancy and knowing what always fits, for Christmas bought me a variety of most-excellent bourbons. One such bourbon is Bulleit Bourbon Frontier Whiskey.
Let me tell you: this is one fine drink. Like all liquor that can call itself "bourbon," Bulleit is comprised of at least 51% corn. What makes Bulleit different from the rest of the bourbons is the heavy dose of rye grain that finds its way into the mix, which was formulated from a recipe created before the Civil War.
I will spare you the "oaky … and hint of vanilla" baloney to simply say the stuff tastes great. I have drunk it only neat, but I'm sure it would stand up very well to ice (clear cubes only, of course — assuming you wish to be civilized)..
Finally, a word about the bottle. What's not to like? It looks like a bottle one would find in the Gem Saloon in Deadwood, complete with a cork, which in a pinch, could be removed with one's teeth.
There aren't many better things in life than a bottle of kickass bourbon on a Friday night, especially on a Friday night when the temperature outside is in the single digits.
Here's to ya!