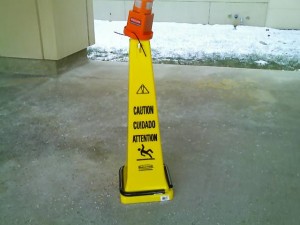 I was walking into the office this morning, and the temperature was in the teens. Add a bit of wind, and that's pretty farookin' cold. I was hunkered down and lost in thought, when I heard:
"CAUTION!! WATCH YOUR STEP!!"
WTF?
I continued to walk.
"CAUTION!! WATCH YOUR STEP!!"
It was a shouting "cone."
Scared the shit out of me, it did.
I can handle being talked to by beets, but I resent being shouted at by a damned yellow plastic cone-type thing.
Somehow society managed to lumber along just fine for at least two-thousand years without shouting farookin' cones.
If my mother were alive, she would blame the Beatles.