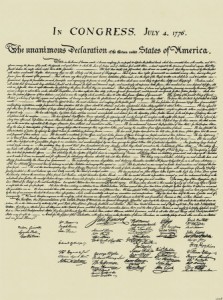 After receiving many well wishes for a "Happy Fourth," I got to wondering if "the Fourth" has just become a date; a date on the calendar that signifies a day off from work, fireworks, barbecues and general merriment. Don't get me wrong, all of that is wonderful and it's wonderfully American. I wouldn't want to dampen any of that spirit.
I am, however, a tad concerned that some people, (particularly the younger peeps who have spent years in the public school system), may not keep in mind what the holiday is all about.
It marked a day when men from the thirteen fledgling colonies assembled and decided to risk their "lives … fortunes … and sacred honor" to break loose from the grip of England and declare independence. Indeed, it ended up costing many of them, their lives and fortunes, but they maintained their sacred honor.
For that reason, tomorrow and in future years I shall no longer wish people a "Happy Fourth," but rather I shall wish them a "Happy Independence Day!"