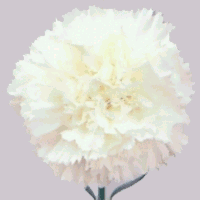 My mother died about ten years ago, and I think about her every day, Mother's Day certainly being no exception. Rather than even try to write the definitive piece about my mother (which could fill a book, the writing of which would turn me into a bowl of quivering jelly), I thought I would share a story that goes a long way to convey what kind of person she was and provide a sense of our priceless relationship.
I believe I was about five or six years old, when my mother took me along with her on the bus for the fifteen or twenty-minute ride into downtown Newark to do some shopping. The bus route crossed one of the bridges over the Passaic River that separated our town from Newark (for the Jersey readers, it was the Clay Street Bridge). The short ride was always an adventure for me, particularly the part that included crossing over the river on the bridge.
On this particular day, as the bus was crossing the bridge, I remarked, "I'd love to spit from the bridge."
"Would you really like to do that?" she asked.
I responded that I would love to actually stand on the bridge that we had crossed many times on the bus and spit into the water.
Next thing I knew, she reached up and pulled the cord that controlled the buzzer signaling the bus driver to stop at the next stop. We got off the bus and walked the block or so back to the bridge. We walked to the center of the bridge, and I recall being amazed that I could actually see the water through the metal grating that was the "road" over the bridge, and I could really hear the singing sounds made by the car and truck tires as they passed over the grating. I had never seen or heard that from the bus.
We looked for a while at the "view" (It certainly was not very picturesque) from the bridge. Then she hoisted me up high enough to enable me to spit over the rail into the water.
After that, we walked the couple blocks back to the bus stop to catch the next bus into Newark.
Later in life, I asked her why she had interrupted her shopping trip and incurred the extra bus fare (money not being plentiful at the time), so that I could spit off a bridge. She said, "I wasn't in any rush, and it sounded to me like something important that a little boy would want to do, so why not?"
She maintained that attitude until the day she died.
I don't remember whether she spit into the river on that day, but I would not be surprised if she had.
Happy Mother's Day, Mom.