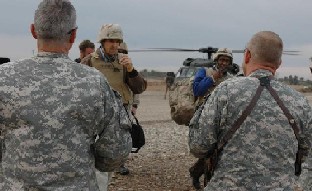 CITATION
David Sutherland
Rank and Organization: Colonel, United States Army.
Donald Felt
Rank and Organization: Command Sergeant Major, United States Army.
For conspicuous patience and exercise of uncommon restraint: Colonel David Sutherland and Command Sergeant Major Donald Felt distinguished themselves by standing fast and maintaining proper military decorum in the face of a furious and unrelenting Bullshit Barrage in Baqubah, Iraq on on 16 December 2006. Colonel Sutherland's and Command Sergeant Major Felt's extraordinary devotion to duty under the most difficult of circumstances are in keeping with the highest traditions of the military service and reflect great credit upon themselves, the First Cavalry Division and the United States Army.
via Blackfive