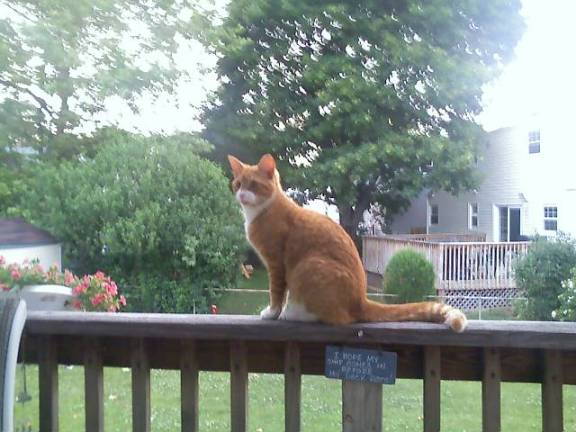 When Dave mentioned Junior in a comment to a recent post, I thought it was time I said a word or two about ol' Junior, the cat that was NOT our cat.
As I detailed here (including the basis for his name), from a very young age Junior managed to work his way into the House by the Parkway for two gourmet (thanks to Mrs. Parkway) meals per day and a long comfy nap after each one. Sometimes, he'd hang around until late in the evening when he would meow to let us know that it was time for him to go out and work the night shift.
He clearly didn't live here. Rather this was his comfort station when he needed something to eat and a break from being a wandering bum an "outside cat." He showed up like clockwork, including one or two times when living the wild life got him pretty well beaten up.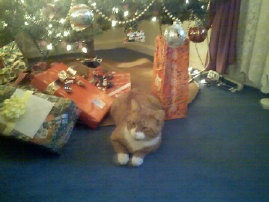 Here's how he looked last Christmas after having been pretty badly banged up somewhere, somehow. He was a resilient sumbitch. He knew that there was always good eats here and that it was cool in the summer and warm in the winter.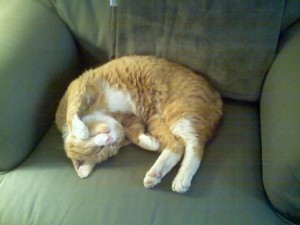 The House by the Parkway also served as a place where he could kick back after a long night of carousing.
When we returned from our cruise in August, ol' Junior was waiting for us in the driveway. He looked a bit thin from having to fend for himself for a week. We saw him for two or three days, and then he stopped showing up. We figured he probably was on a major tear somewhere, or that he managed to work his way into the house of a neighbor. We convinced ourselves that he would return, being the regular beggar that he was.
After about ten days had passed without seeing Junior, we asked our neighbor whose grown son was the person who claimed title to the cat (even though he never exercised dominion and control over him), what was up. The neighbor replied that he didn't know, as they had never let the cat into their house. He opined that his son, who moved out to live with his girlfriend, may have taken Junior with him. I satisfied myself with that explanation until about a month ago when I saw the son while he was visiting his parents. I asked if he had taken the cat with him, and he replied that he had not.
So, the conclusion became at once inescapable: after having been a regular around here for more than a year, ol' Junior was gone, really gone. I assume he tangled ass with a moving car and the car won, or that he got a fatal ass kicking from another animal.
I hope he didn't suffer.
We've since given the gourmet cat food (wet and dry) and all his toys (Oh yeah, there were toys) to a relative who has cats. We speak of him now and then, and we always end up smiling, at least on the outside.
Even though he was never really our cat, I miss his sorry ass.