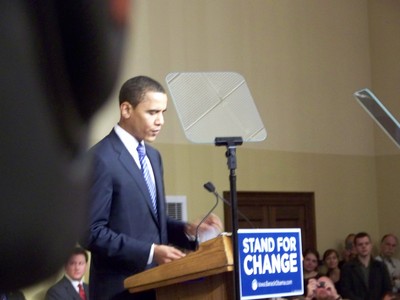 We have recently learned that Barack Obama is "addicted" to the teleprompter. I suppose this is not very surprising given how busy he has been destroying the free-market economy saving the United States, the free world the planet. In fact, we also learned that doing all this changey stuff has him a bit "overwhelmed," so much so that he often forgets how to manage some very basic things.
Hence the Telecrapper.
PRS Operatives have learned that the President has had a Telecrapper, a specially designed teleprompter-like device, installed in each of the private bathrooms in the White House. As such, when the President feels a bathroom Urge of The Second Kind, he flips a switch on the Telecrapper for some necessary prompting.
PRS has managed to get an exclusive, first-hand look at the device and its associated script:
UNBUCKLE BELT

UNBUTTON TROUSERS

UNZIP FLY

PULL TROUSERS DOWN

PULL UNDERWEAR DOWN

SIT

SQUEEZE/PUSH (IT'S OK TO PEE TOO)

LISTEN FOR PLOP/SPLASH

UNROLL SOME TOILET PAPER (THE SOFT STUFF IS OK; YOU'RE THE PRESIDENT)

FOLD OR CRUMPLE (YOUR CHOICE)

WIPE AND REPEAT WITH MORE PAPER UNTIL PAPER IS CLEAN

DROP SOILED PAPER INTO TOILET

FLUSH

STAND

PULL UNDERWEAR UP

PULL TROUSERS UP

TUCK IN SHIRT/BUTTON TROUSERS

ZIP FLY

BUCKLE BELT

CONGRATULATIONS. YOU HAVE SUCCESSFULLY COMPLETED YOUR BIOTASK.
We were informed that last week the President tried to kick his Telecrapper addiction, cold turkey, and he forgot the "Pull Underwear Down" step. Joe Biden was called to help clean up.
Reliable sources tell us that the President has a similar script loaded into his Blackberry for those occasions when he is away from the White House.