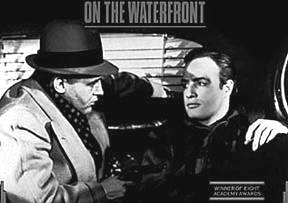 Remember the classic movie, "On the Waterfront," starring Marlon Brando as Terry Malloy?
The movie was inspired by the criminality that was rampant in the New York and New Jersey ports. That same corruption also gave rise to the creation of the Waterfront Commission, a bi –state agency charged with the mission of combating corruption on the waterfront.
It turns out that an investigation ordered by the former governor of New York (not the governor of New Jersey), the New York Inspector General concluded in a 60-page report (pdf) that the agency, which was created to combat corruption, was itself corrupt. The Inspector General concluded, "This was a total agency breakdown."
For example, the Commission is charged with issuing licenses for business to operate in the ports, but it hadn't issued a permanent license "for at least a decade." As such virtually all the companies operating for the last ten years have been conducting business using "temporary" licenses, which were not created for such a purpose.
The laundry list of improprieties uncovered, "included improper hiring and licensing to fiscal lapses involving the misappropriation of forfeiture funds, unsound overtime pay and misuse of Homeland Security grants." The Commission used a $170,000 Homeland Security grant to buy a patrol boat that was supposed to be "capable of early detection of a waterborne attack" and was to be used to "deploy officers … at high risk target locations such as the NYC Passenger Ship Terminal, [and] Cape Liberty Cruise Port in Bayonne." The boat was actually used to "escort guests and VIPs during Fleet Week and other events."
Coming under heavy fire was New Jersey Commissioner, Michael Madonna (also a former state PBA president). The report concludes that Madonna exercised virtually no oversight of the ports' operations and essentially saw to it that supremely unqualified friends were hired for the Commission police department.
Here's the kicker.
After New Jersey governor Jon Corzine "learned" of all this corruption from the Inspector General a few days ago, he fired Commissioner Michael Madonna. It is notable that Jon Corzine trails Chris Christie in the gubernatorial polls. Christie is a former federal prosecutor with a perfect record of convictions of a slew of crooked pols.
Jon Corzine – Crime Buster.