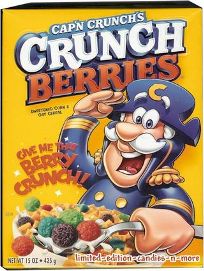 A huge shout out and major props to U.S. District Court Judge Morrison England, Jr. of the Eastern District of California. Here's why.
A woman sued the manufacturer of Cap'n Crunch's Crunch Berries cereal claiming under California law that she was mislead by the packaging and marketing of the product into believing that the cereal contained real berries (crunchberries?). The woman had been buying (and presumably eating) Cap'n Crunch's Crunch Berries cereal for four years before filing suit.
In dismissing the claim, Judge England stated, "The survival of the instant claim would require this Court to ignore all concepts of personal responsibility and common sense. The Court has no intention of allowing that to happen."
Nice going, Judge England.
There are more details at Lowering the Bar.