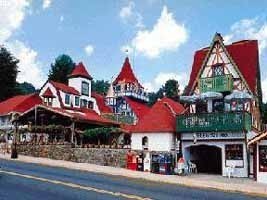 My bag is packed, and Mr. Guitar is in its travelin' case.
Bright and early tomorrow morning my friend and bodyguard Ken will pick me up in da Caddy and we'll set off on our trip to the Alpine Village of Helen, Georgia, where we will meet some old friends and make some new ones. We'll bask in the Gemuetlichkeit (said with a Southern drawl) and maybe even have a few adult beverages. I suspect that I'll even do a bit of pickin' with the other half of the Elderly Brothers and with anyone else who shows up with a guitar, including the Joanster.
Play nice while we're on the road, and we'll see youse guys on Friday.